Become a Cowry Kitchen Cabinet Dealer
TESTIMONIAL
it's been a pleasure to work with Cowry Cabinets.
With its good quality product and awesome turn-around time, our customers were very happy when they see the completed project.
We enjoy the experience and always look forward to have more business with them. Cowry also has excellent crew to help out there, whenever you need them, they are always happy to assist.
To have a good relationship between your business partners is always important, and we not only have great working relationship, but a friendship as well.
-Fanny Zhang
At Cowry, we understand the importance of forging smart, strategic partnerships. We also know that the products you choose to sell and the businesses you partner with is a big decision – one you don't take lightly.
Cowry Wholesale Cabinets is always looking to add qualified dealers, to our expanding franchise stores across Canada, who are dedicated in providing customers with the very best product and service available.
Cowry has a strong reputation for being a high quality pre-made cabinetry company with professional services at affordable prices in the kitchen industry. Every dealer will receive company training about products, designing and useful sales support.
Cowry Cabinets is a dealer for select Home Hardware and Rona stores.
Cowry Cabinet Dealer Benefits
• marketing assistance
• experience in helping to build franchise store fronts
• located in 3 provinces and expanding
• huge inventory
• proprietary inventory system
• open 8 years and have built a quality reputation
The COWRY brand name can also compliment your current line-up kitchen cabinets. Cowry provides a full range of sizes in base cabinets, wall cabinets, bathroom vanities and accessories to meet different kinds and levels of designing. Cowry Marketing assistants will be pleased to answer any questions you may have and can describe in greater detail the many benefits of becoming a Cowry dealer, either in sales support or B2B pricing.
We welcome dealers from every province and area in Canada. To set up a personal appointment or contact us, please fill in the following form (below) and we will respond promptly(go to form). Thank you for your interest in Cowry!
Cowry Warehouse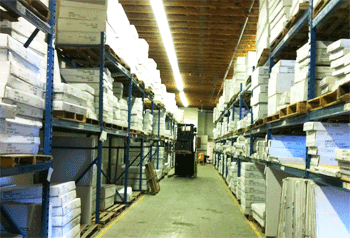 Cowry Warehouse our large warehouse in Vancouver is stocked with tons of inventory which allows us to ship orders within 1 week
Cowry Cabinets Inc. is an industry leader providing high-quality pre-made cabinetry and impeccable service. Founded in 2006, we are proud to have served thousands of satisfied clients.
Having our own manufacturer in China, we provide price-competitive solid-wood cabinetry for households, dealers, builders, developers, contractors and renovators. Because our 25,000 square feet warehouse is located in Vancouver, our clients can get their orders delivered out within 24 hours. Product delivered on time is important for our customers and we can ensure your cabinets will be delivered on time.
Our service goes beyond delivering the high quality product. From the initial stages of measurement and design to the final stages of delivery and installation, our clients are treated with the utmost care and professionalism. "Best Price, Best Quality and Best Service." is Cowry's mission. We care!
Cowry's warehouse team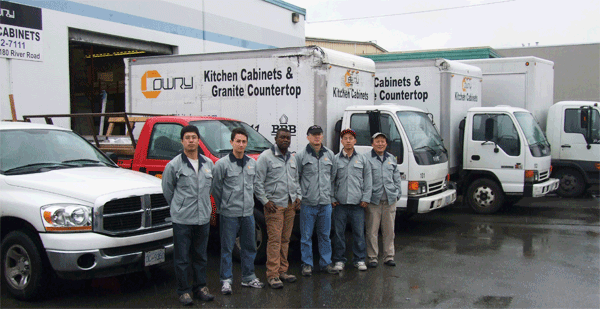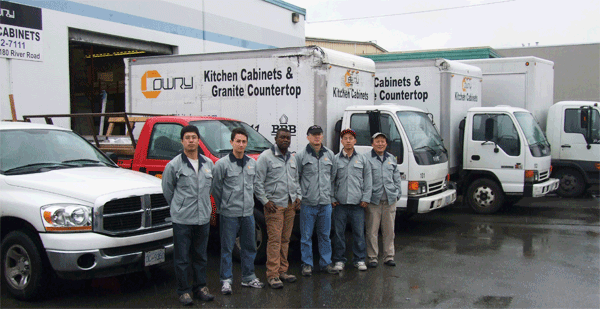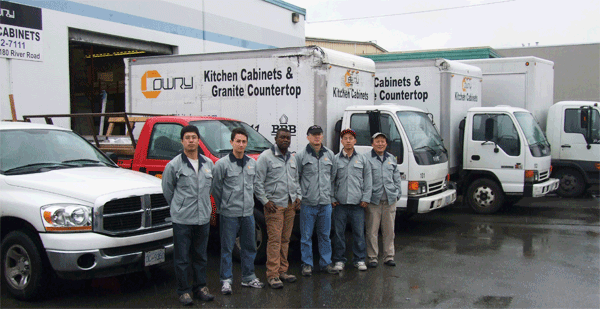 Fill out email form for Dealer Inquiries